It was inevitable, y'all. This Cookie birthday party has been a long time coming. Jonah totes his little blue friend to breakfast, to school, to the mailbox, to restaurants, the park, he goes shopping with us, and even into the bathroom for bath time (where I have a strict little talk about Cookie not liking the water) so he waits for Jonah to finish up on the bathroom counter. And, of course, he goes to sleep with Jonah.
They're the very best of friends. Jonah and his "took-ie".
I love to plan and list, so I thought it would be fun to share how I plan his parties and allow you follow along with all of the birthday planning fun.
Step 1: Determine your color scheme.
Cookie is blue. Duh. So naturally we're going with Cookie Royal Blue, and I've decided to add Navy, Turquoise and Kelly green. I added additional colors to make it feel more festive and summery (and not as Cookie cutesy!!).
Step 2: Find a style of party decor that you're inspired by. Focus on patterns you like and an overall feel.
I intentionally choose a preppy color scheme for this Cookie party. A plain Cookie party isn't really my style, so I had to make it feel more "me", if that makes sense? There's nothing more classic than Kelly Green and Navy, right? So I was intentional about that because I know I want to use classic canopy stripes and polka dots throughout the party decor.
Here are a few photos I was inspired by + the details I like about each:
Stripes and polka dots. Preppy colors. I'm using this photo to get an idea of what our colors look like together. It makes planning simple when you can find an image that has the color scheme you're planning around.
This is an adorable idea for an outdoor drink station!
Jonah loves fruit- I like this colorful fruit pizza. It would be super easy to make and these are always a party hit!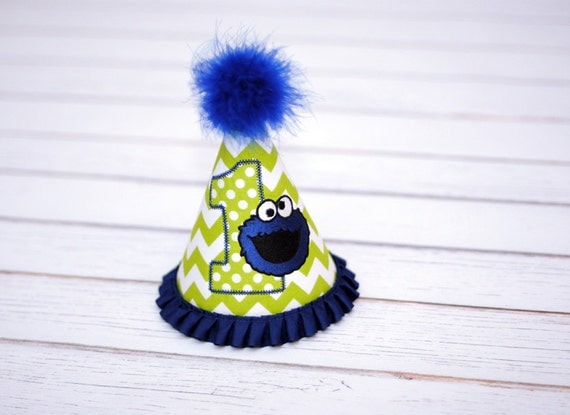 Cookie Monster party hat. I mean. Is that not the cutest ever?!
Step 3: Party Venue/Location & Time
We are having a morning park party for Jonah's second birthday. He loves to slide and play. A park does make decorating a little tricky so I'm sticking with easy party decor, nothing over the top or complicated. Just sweet and simple. I'll probably have one food table (with his cake) that looks cute and cover the rest with plain Kraft paper.
I went back and forth debating a party time for Jonah's park party. I ultimately decided on a 10AM time because I think it will be cooler outside than a mid-day or afternoon party. Nobody likes to be hot and cranky. Texas heat is just brutal, y'all.

As far as food goes, I'm still thinking about that one. 10 AM is really brunch-ish so I'm going to brainstorm a few ideas and see what I can find that's filling and also appropriate for the time.
Step 4: Invitations
Choose an invite that gives guest an idea of what the party will be like. Fun, whimsical, themed, etc.. Honestly, I could be the pickiest person ever about party invites. I like them to be special, unique and printed on high quality paper. I have an insane love of paper goods, so I will be designing Jonah's invite (although Etsy has TONS of great options).
This year I printed Jonah's invites from a new source I found-
Overnight Prints
. I am so pleased with the quality of the paper and printing! Check them out if you want to print your own (also, their prices are really reasonable!).
----------
How do you plan your parties? Any special tips? Let's dish.
Also, I'll be sharing the party crafts over the next couple of weeks, so check back often!